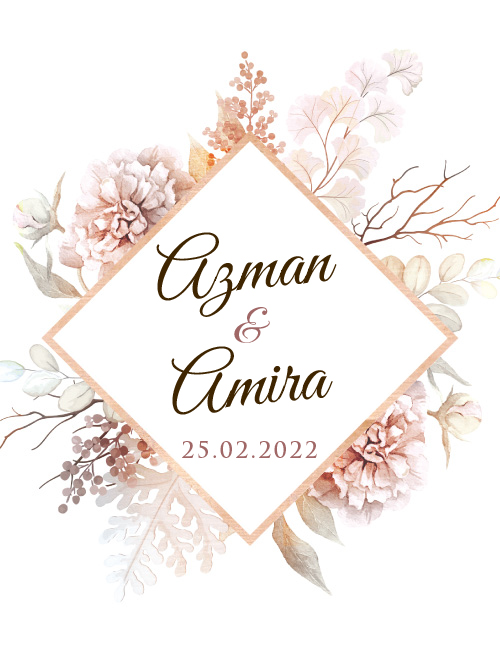 A.M Jafarullah
& Thahira Banu
Khalilul Rahman
& Shamsul Arifa
We request the pleasure of your company
at the solemnization ceremony of
25 FEB 2022
23 Rejab 1443H
Friday
DEWAN BANQUET,
MENARA BERKEMBAR BANK RAKYAT
Level 2, NO.33,
JALAN RAKYAT, BRICKFIELDS, KUALA LUMPUR, MALAYSIA
Programme
6:30 pm onwards
followed by dinner
event sop guide
Only guests with COMPLETE 2 DOSE COVID-19 VACCINATION are allowed to enter the Ceremony
Guests with Covid-19 symptoms or close contact with Covid-19 patients are NOT ALLOWED to attend the event.
Please show the vaccine status via My Sejahtera apps before enter the Ceremony.
Guests will be asked to make a temperature screening at the entrance. Only asymptomatic guests are allowed in.
Guests are required to wear a face mask and follow the latest Covid-19 S.O.P issued by MKN.
Comply with government physical distance (1 meter).
Guests are not advised to shake hands with each other, instead use other respectful approach.
Please adhere to the attendance time that has been set for the event.
Guests are also encouraged to take a Covid-19 self-test to ensure the safety and health of all.The cooperation from all is greatly appreciated. Thank you.


"May Allah bless for you your spouse, and bless you, and may He unite both of you in goodness."

Please leave your wishes for us!
Thank you